When it comes to the kids, parents want to make sure they're ready to go, ready to learn, and ready to succeed. There are lots of products out there that can help, and Emily Richett from Richett Media came by the studio to show off some products that can do just that.
For schools & little ones at home.
Sarah's Silks are beautiful, hand-dyed silks for open-ended play (the opposite of loud, blinking, high-tech toys).
The more it moves, the more it invites a child to use their imagination with it. One of these silks can be a hero cape, the roof of a fort, a dress-up skirt, the ocean, grass, etc.
These are eco-friendly unlike all the plastic in children's toys. This renewable, natural material, will go back into the earth one day.
Pretend play is the foundation for a creative, inspired life.
Created by a husband and wife team that overcame the same autoimmune disease after discovering the healing power of food and lifestyle.
Just add 8 oz. of hot water and sip your way to better health.
The collagen in the coffee diminishes wrinkles & improves skin elasticity for a more youthful look.
The charcoal in the lemonade gently absorbs and removes toxins in the body to alleviate bloating and gas.
Believes healthy food should be accessible to all. For each bag purchased, Vimco Wellness donates a meal to a child in need.
Product line includes: Collagen Coffee: Vanilla Maca, Collagen Coffee: Cacao, Collagen Matcha: Original, Probiotic Matcha Lemonade, Charcoal Lemonade.
Non-GMO gummy multivitamin for the whole family.
Contain 13 essential vitamins & minerals that children need to complete their diet.
Free of soy, nut, yeast, dairy, gelatin, salt, fish, egg, and gluten.
Made with organic tapioca syrup & vegan friendly pectin.
Manufactured in Austin, Texas at an Organic & GMP Certified Facility.
Moonlite is a storybook projector for your mobile phone.
Ignite the love of reading and develop your little kid's big imagination with Moonlite!
Moonlite merges traditional storybooks with modern technology to make reading a magical and enchanting experience for your little ones.
United By Blue- Responsible Durable Goods
For every product sold, United By Blue removes one pound of trash from our world's oceans and waterways.
They believe that products designed for enjoying the outdoors should also be kind to the outdoors. put a lot of thought into the materials that make up each piece and always opt for textiles that keep our oceans, air and soil a little cleaner.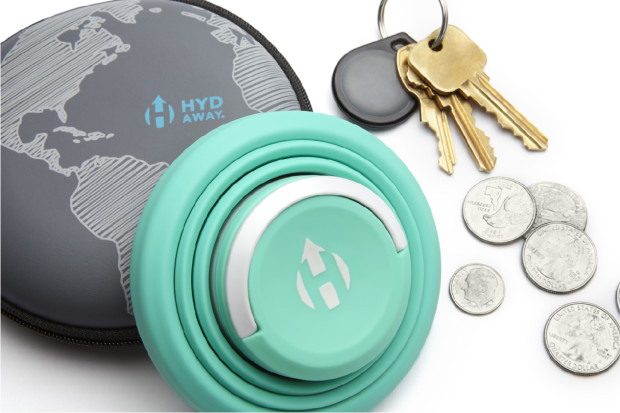 Hydaway is the collapsible, ultra-stashable, planet-friendly go-anywhere water bottle. With a new streamlined look and two new sizes (18 ounces and 28 ounces), Hydaway 2.0 is slim, lightweight and easy to use with an ergonomic expansion grip on the bottom.
New lid and accessory options include a freshly-designed cap lid with flip-up handle, an improved and ergonomic spout lid with higher flow rates than the original, and a carbon filter disc that removes bad tastes and odors for a cleaner, more refreshing hydration experience.
When expanded, Hydaway 2.0 helps quench your thirst during airport layovers, gym workouts, daily commutes, soccer games or anywhere else space is a premium. The innovative bottles can be folded down to just over 1-inch to easily fit in a pocket, backpack, gym bag or diaper bag.
Hydaway 2.0 bottles are BPA-free, nontoxic and dishwasher safe.